The New York mansion of America's first self-made female millionaire holds out the hope of success through innovation, creativity and hard-work. C.J. Walker is a testament to ingenuity. Regardless of your industry or economic place in life, C.J. Walker should be someone you learn from. In this article, Journalist A'Lelia Bundles takes us on a tour of C.J. Walker's palace. A'Lelia Bundles is the author of four books about her great-great-grandmother, including "On Her Own Ground: The Life and Times of Madam C.J. Walker." Photos from the Madam Walker family archives except where noted; photo by David Bohl, Historic New England.
Legendary hair care magnate Madam C.J. Walker built her mansion in New York's Hudson Valley a century ago not only to inspire women entrepreneurs and young African-Americans, but also to entertain her wide circle of illustrious friends.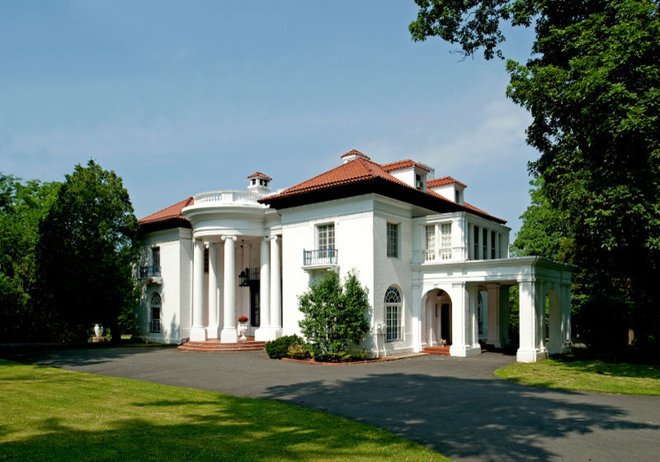 When Walker moved into Villa Lewaro 100 years ago this June, she pronounced it her "dream of dreams" and The New York Times called it "a place fit for a fairy princess." Located at 67 N. Broadway in Irvington-on-Hudson, the neo-Palladian white stucco mansion with a red-tiled roof is less than 5 miles downriver from John D. Rockefeller's Kykuit and about a mile from Jay Gould's Lyndhurst.
But while most of her wealthy white neighbors had positioned their homes to take advantage of the views of New Jersey's Palisades along the Hudson River, she intentionally situated her house facing Broadway, the better to be seen by travelers en route from the state capital in Albany to New York City.
Walker wished for Villa Lewaro to serve as an inspiration to African-Americans at a time when racist and discriminatory Jim Crow laws denied their basic civil rights and excluded them from educational opportunities and economic prosperity. She built her mansion, she said, not for personal aggrandizement but rather "to convince members of my race of the wealth of business possibilities, to point to young Negroes what a lone woman accomplished and to inspire them to do big things."
"Do not fail to mention in the article for Negro History Magazine that the Irvington home, after my death, will be left to some cause that will be beneficial to the race, a sort of monument," Walker wrote to her attorney, F.B. Ransom.
Today it is a National Historic Landmark and a National Trust for Historic Preservation National Treasure.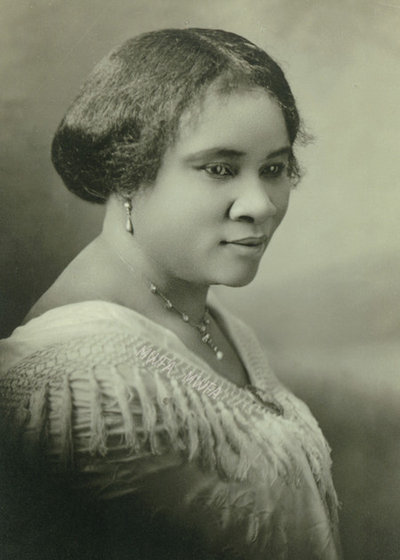 A pioneer of the modern hair care industry, Walker also was a philanthropist, a patron of the arts and a political activist who supported the NAACP's anti-lynching movement.
Her story of entrepreneurship and women's economic independence is carried on through several institutions and organizations, including Madam C.J. Walker Beauty Culture (a line of hair care products), theMadam Walker Legacy Center in Indianapolis and Walker's Legacy(a women's financial empowerment initiative), and a forthcoming Netflix series starring Octavia Spencer.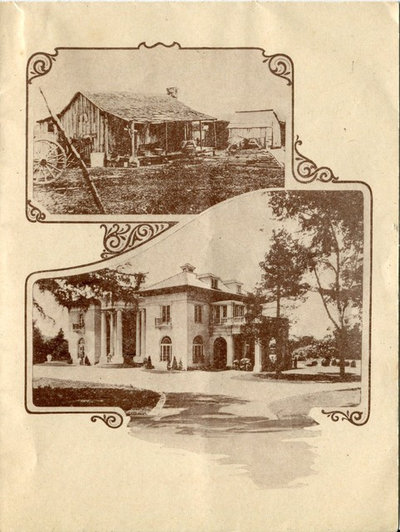 Humble Beginnings
Walker was born Sarah Breedlove on December 23, 1867, on the plantation in Delta, Louisiana, where her parents and older siblings had been enslaved before the Civil War. The first of Owen and Minerva Breedlove's children to begin life as a free person after the Emancipation Proclamation, she was orphaned at 7 years old.
Widowed at 20 by the death of her first husband, Moses McWilliams, she was a poorly paid washerwoman until she was 38. Yet when she died on May 25, 1919, she was one of America's wealthiest businesswomen.
This composite image of her Louisiana birthplace and Villa Lewaro appeared on the Madam C.J. Walker Manufacturing Co.'s 1924 Christmas card to illustrate her journey from "cabin to castle," as company literature called it.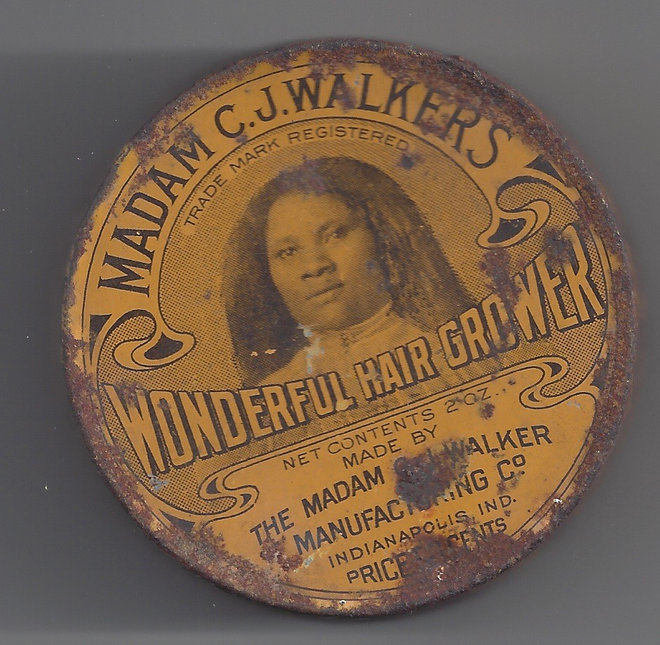 In 1906, after suffering from a scalp infection that caused her to lose much of her hair, Walker developed a shampoo and an ointment that remedied dandruff and promoted hair growth. After living in St. Louis, Denver and Pittsburgh, she finally established her company headquarters in Indianapolis in 1910.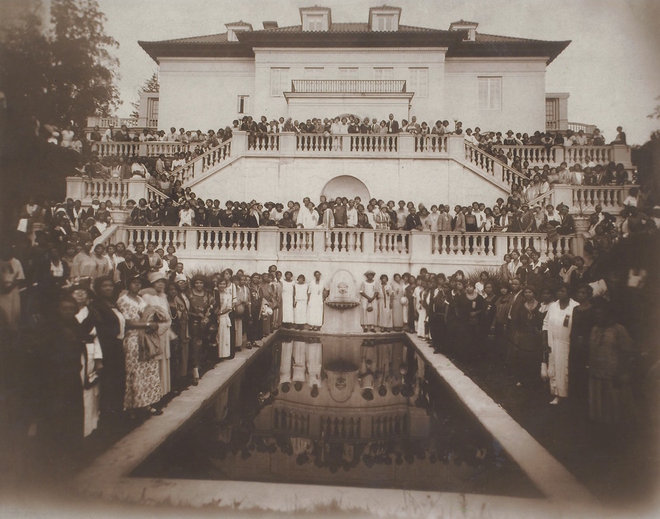 By 1916, she had trained thousands of Walker sales agents and "beauty culturists," who sold her Walker's Wonderful Hair Grower throughout the U.S., the Caribbean and Central America. This picture shows the agents and employees at Villa Lewaro for the eighth annual convention in 1924.
Lure of New York
It was Walker's daughter, A'Lelia Walker Robinson (1885-1931), who first moved to New York in 1913 after persuading her mother to open a beauty school and branch office in Harlem, just as that uptown Manhattan community was becoming the mecca of African-American culture and politics.
The two women hired Tuskegee and Cornell graduate Vertner Woodson Tandy (1885-1949) to design their Harlem home and business. The first licensed black architect in New York state, he converted adjoining townhouses into a neo-Georgian double facade of brick and limestone. "The decorators said that of all the work they had done, there is nothing equal to it, not even on Fifth Avenue," Walker wrote to Ransom.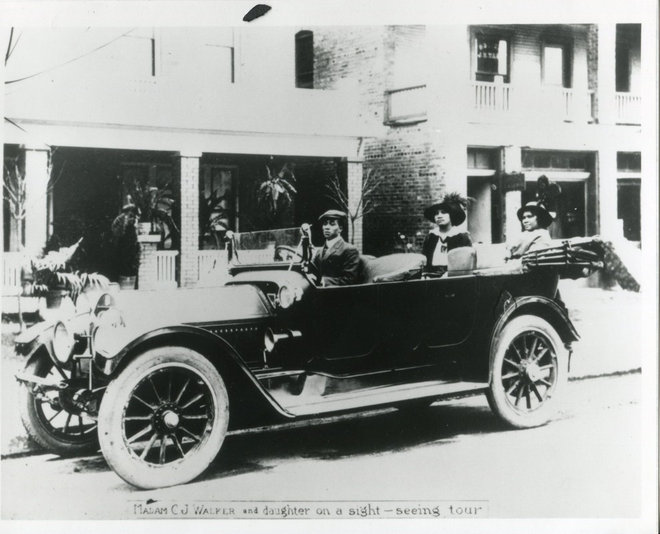 In 1916, Walker moved her personal residence to New York, though her company headquarters remained based in Indianapolis. Later that year, she purchased the Irvington property and commissioned Tandy to design a mansion.
"The villagers, noting her color, were frankly puzzled," reported The New York Times in November 1917 after Walker, pictured here with A'Lelia, arrived in her chauffeured touring car. "'Does she really intend to live there, or is she building it as speculation?' the people asked."
When her neighbors learned that she did indeed intend to live among them, they were stunned. "'Impossible!' they exclaimed. 'No such woman of her race could afford such a place,'" the reporter wrote.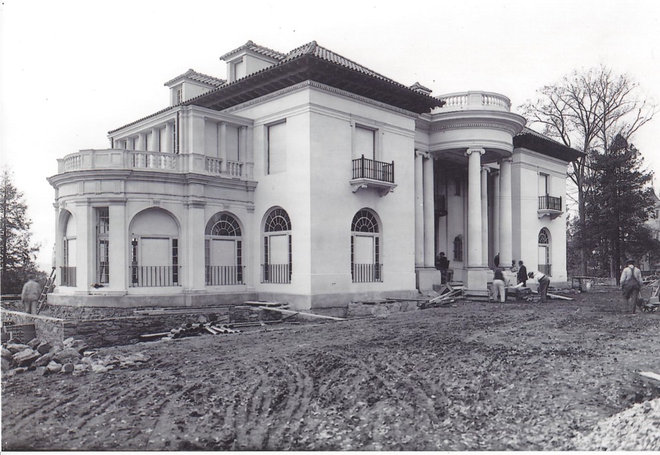 During construction, Walker visited the property often. "I asked her on one occasion what on earth she would do with a 30-room house," wrote journalist and activist Ida B. Wells. "She said, 'I want plenty of room in which to entertain my friends. I have worked so hard all of my life that I would like to rest.'"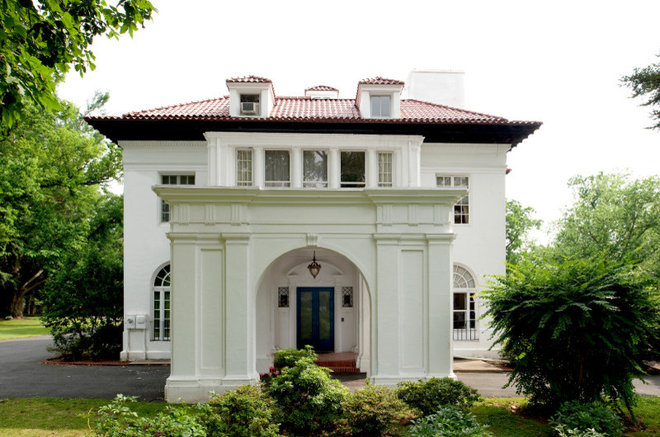 The House and Garden
The 20,000-square-foot mansion originally stood on 5 acres (now just under 2) that extended from Broadway down a sloping hill to the eastern shore of the Hudson River. Construction costs in 1918 were $250,000, or $4.5 million in 2018 dollars. Furnishings and artwork were estimated at $100,000, or $1.8 million today.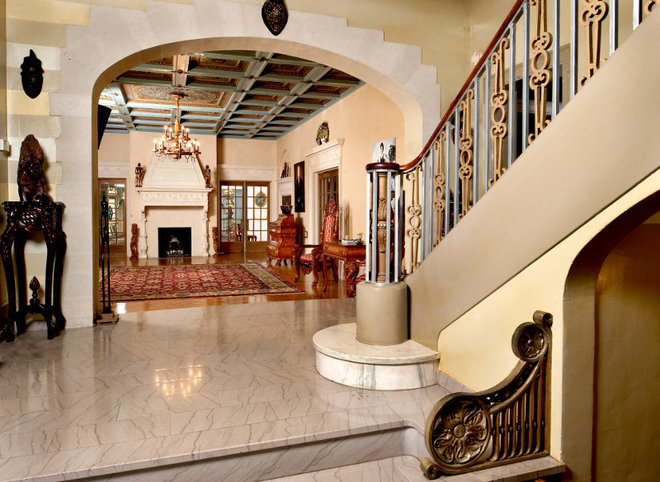 Visitors who enter from the porte-cochere on the north side of the house, shown in the previous photo, step onto marble floors that lead to a staircase to the second floor with its wood-and-metal banister. The open plan affords a view of the entry hall, dining room, music salon and solarium.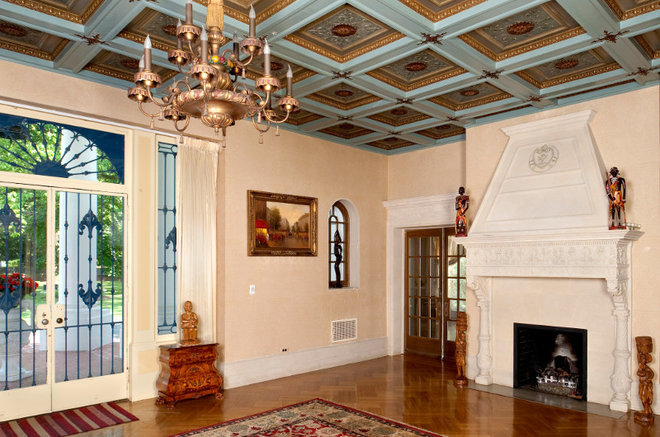 Photo by David Bohl, Historic New England
Tandy's entry hall design is both welcoming and stately. Glass doors allow natural light to brighten the room. The coffered ceiling features hand-painted medallions that were restored in 1998, when the current owners, Harold and Helena Doley, hosted a designer house showing to benefit the United Negro College Fund. That year, the house also was the subject of an HGTV special.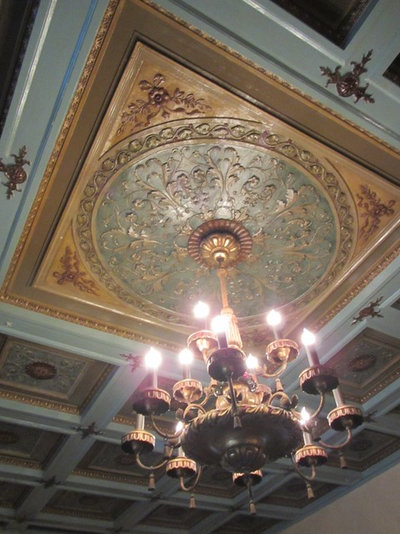 When Walker lived in the home, the herringbone hardwood floor was covered by a Tabriz carpet. Italian tapestries hung from the walls. In the center of the room, a Cartier bronze sculpture of a jaguar sat atop a large oak table.
Although none of her furniture remains, most of the home's chandeliers and sconces are original.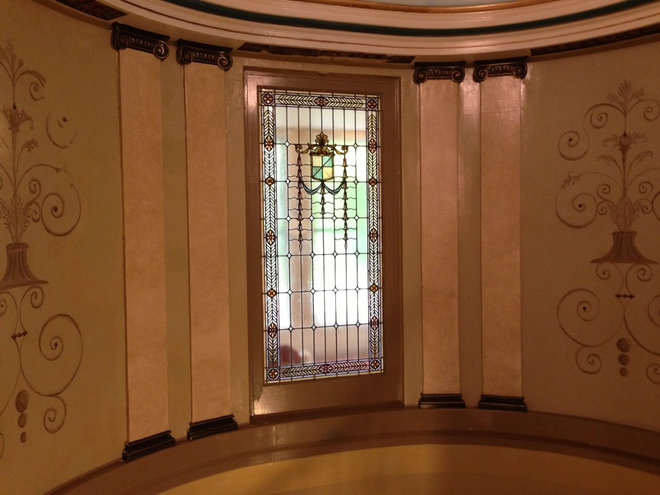 A stained-glass window at the top of the marble staircase provides a view to a second-floor sleeping porch on the north side of the house above the porte-cochere.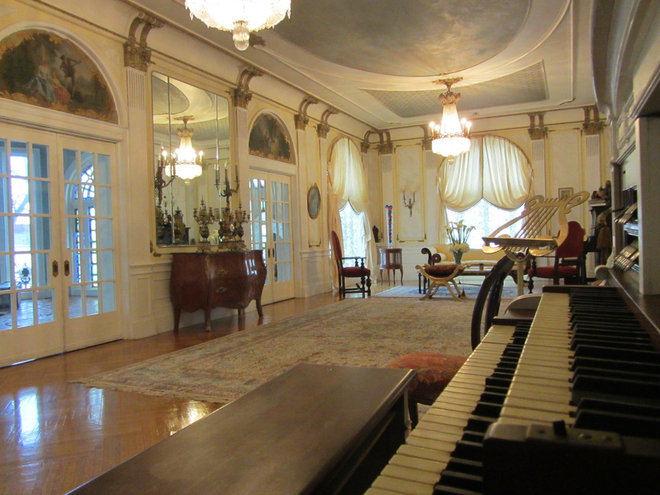 While Walker was still a washerwoman in St. Louis, she and her daughter had developed an appreciation for many genres of music, so they included this music salon, where their friends could entertain. When the famous Italian tenor Enrico Caruso visited the mansion, it so reminded him of his native Naples that he suggested naming it Villa Lewaro, using two letters from A'Lelia and Walker and Robinson, the name of A'Lelia's first husband.
Two large Italian crystal chandeliers hang from a recessed oval with a trompe-l'oeil painting of a cloud-filled blue sky.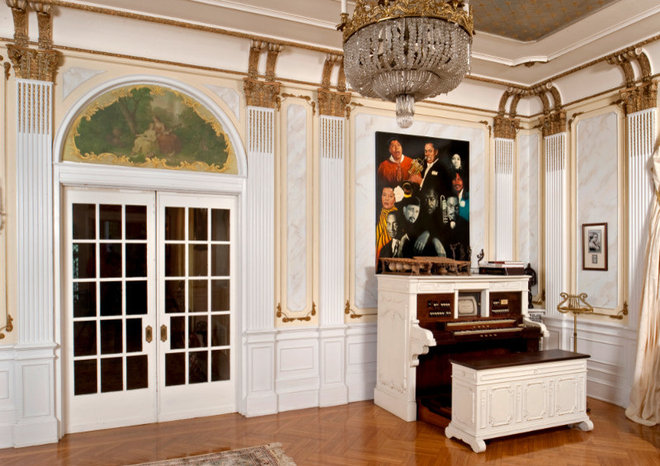 In St. Louis, Walker had been a member of the choir of St. Paul African Methodist Episcopal Church, which owned a state-of-the-art Kilgen organ. It had made such an impression on her that she instructed Tandy to install a $25,000 Estey organ with piping throughout the house.
In August 1918, Walker hosted a weekend gathering in honor of Emmett Scott, special assistant to the U.S. secretary of war in charge of Negro affairs. With America in the midst of World War I, conversation focused on the status and treatment of black soldiers in France as well as civil rights at home. The nearly 100 black and progressive white guests also were treated to a concert arranged by composer J. Rosamond Johnson and featuring organist Melville Charlton, the first African-American admitted to the American Guild of Organists, and violinist Joseph Douglass, grandson of abolitionist and diplomat Frederick Douglass.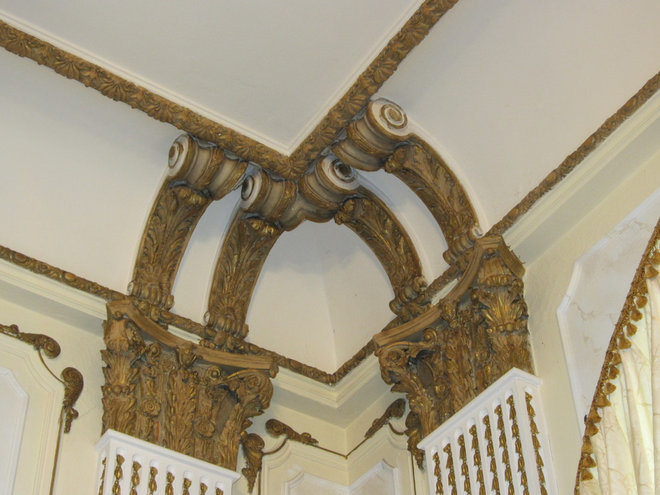 By the time Walker moved to Villa Lewaro, she was suffering from acute nephritis, a severe kidney ailment brought on by hypertension.
After she spent extended periods at the Battle Creek Sanitarium in Michigan and a spa in Hot Springs, Arkansas, her doctors recommended installing this needle shower, which directs fine jets of water around the torso. It's still operational a century later.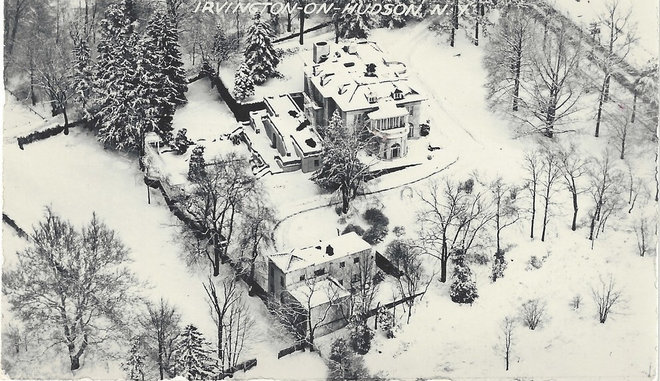 As Walker's 51st birthday party approached on Dec. 23, 1918, she supervised Christmas decorations at Villa Lewaro. On Christmas Eve, the house began to fill with friends, including a well-known African-American sculptress, a wounded World War I veteran, a prominent African Methodist Episcopal Church minister and Hallie Queen, a linguist and teacher at the renowned Dunbar High School in Washington, D.C.
"The building and grounds, with all of their beauty, meant little to me except as 'a fitting temple for a great Soul' for the genius and achievement of the woman were far greater than the buildings of marble and wood," Queen later wrote.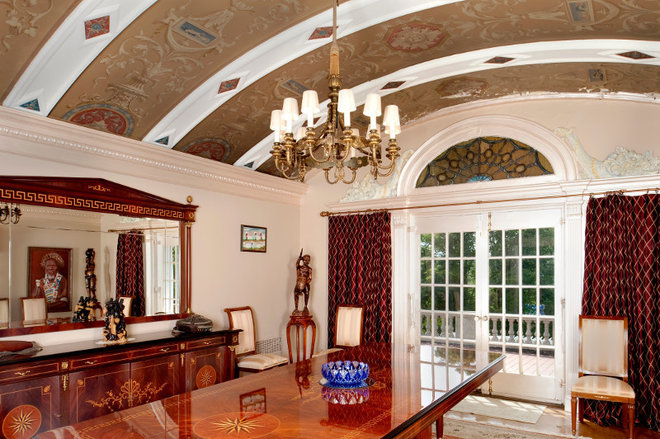 Photo by David Bohl, Historic New England
On Christmas morning, after singing carols and hymns by the fireplace, the guests gathered for breakfast. Walker's cozy dining room — with its recessed lighting and barrel-vaulted ceiling — features a whimsical mural of sea sprites, flirty mermaids and leering demons. At formal dinners, she displayed her Limoges china and Tiffany silver on a custom Hepplewhite dining table.
French doors open onto a terra-cotta-tiled terrace and a panoramic view of the river.
The 4,000-square-foot carriage house originally was constructed as a three-car garage for Walker's luxury automobiles. Her chauffeur and handyman lived upstairs with their families. The building was converted into two spacious apartments for the United Negro College Fund Designer Show House.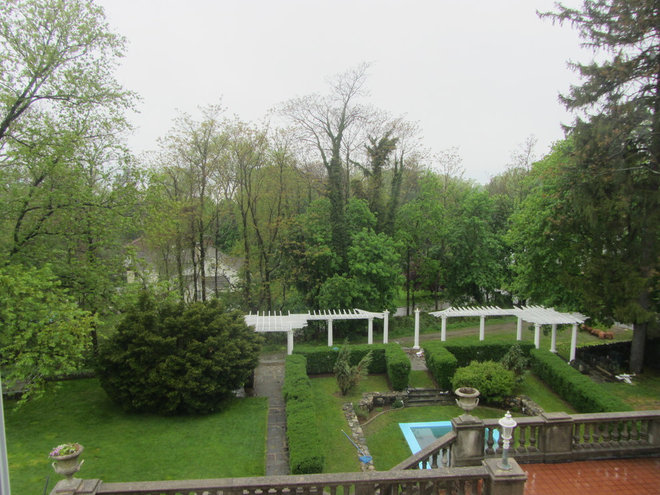 Having spent her childhood in rural Louisiana, Walker was accustomed to farming. In August 1918, she wrote in a letter that she was "busy as a bee" tending her backyard garden with the help of her housekeeper. "Every morning at six o'clock I am at work pulling weeds, gathering berries and vegetables. We are putting up fruits and vegetables by the wholesale. I am dressed up in woman-alls, the feminine for overalls, and I am a full-fledged 'farmerette.'"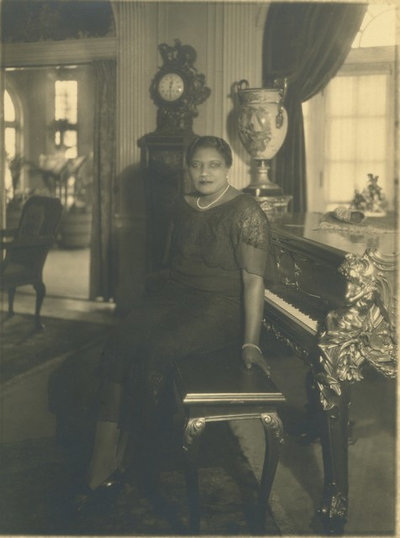 Harlem Renaissance Hot Spot
After Walker's death in 1919, daughter A'Lelia, pictured, continued to entertain at Villa Lewaro and in Harlem. Her parties were so legendary that poet Langston Hughes called her "the joy goddess of Harlem's 1920s."
She counted among her friends the most noted actors, artists and writers of the Harlem Renaissance. Villa Lewaro's music salon, with its organ, grand piano and harp, was well-equipped for visiting musicians.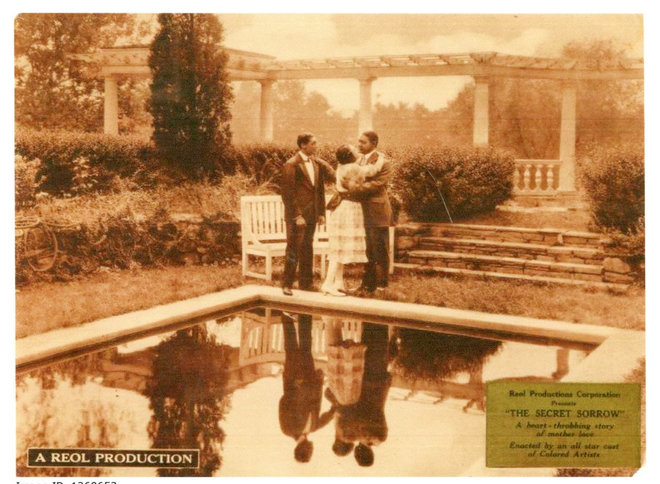 As the most famous home owned by African-Americans during the early 20th century, Villa Lewaro assumed iconic status and was a source of pride. During the summer of 1921, filmmaker Robert Levy used it as the setting for several scenes in the silent movie The Secret Sorrow. That same year, A'Lelia threw a Fourth of July weekend party complete with fireworks on the terrace for Liberian President C.D.B. King.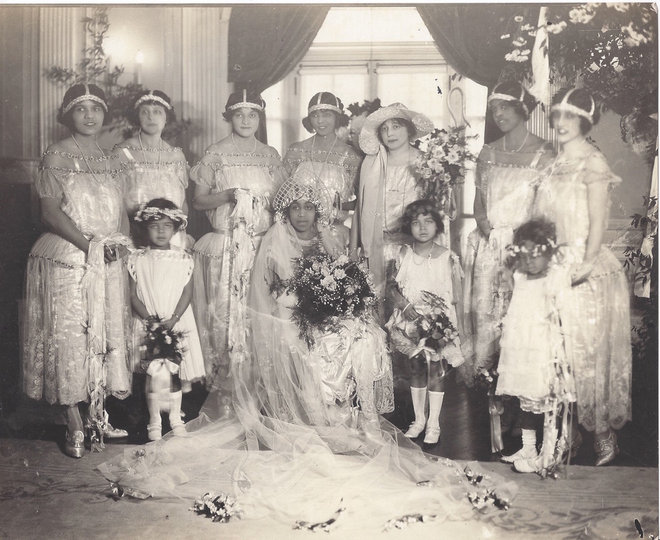 In November 1923, A'Lelia hosted her daughter Mae's wedding reception at Villa Lewaro. After an elaborate ceremony at St. Philip's Episcopal Church in Harlem, 900 guests crowded onto the grounds. The event was widely covered in The New York Age and The New York Times.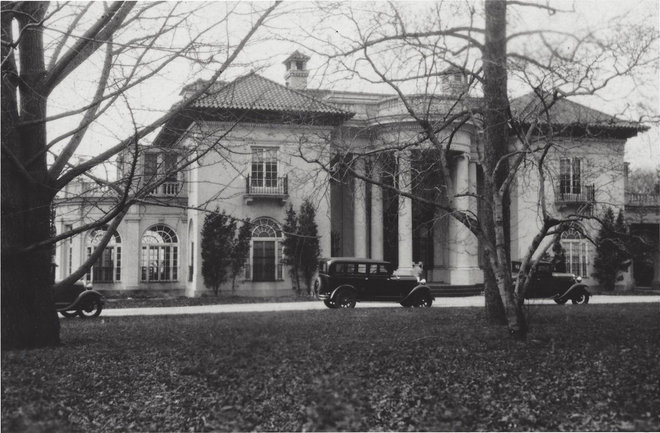 Decline and Restoration
The 1929 stock market crash devastated Walker Co. sales. Madam Walker's will had bequeathed the property to the NAACP, but taxes and upkeep were too high for the organization to take on the expense. In the fall of 1930, many items in the home were auctioned. By the next summer, in the midst of the Great Depression, the appraised value of Villa Lewaro had fallen to $170,000.
A'Lelia Walker died in August 1931. In 1932, the Walker estate sold Villa Lewaro to Annie Poth and the Companions of the Forest as a retirement and recreation home for the organization's members. In the mid-1980s, Ingo and Darlene Appel purchased the house and began renovations. Since 1993, Villa Lewaro has been owned by the Doleys. Their stewardship has been marked by painstaking care, including the reconstruction of the terra-cotta roof with materials from the original manufacturer.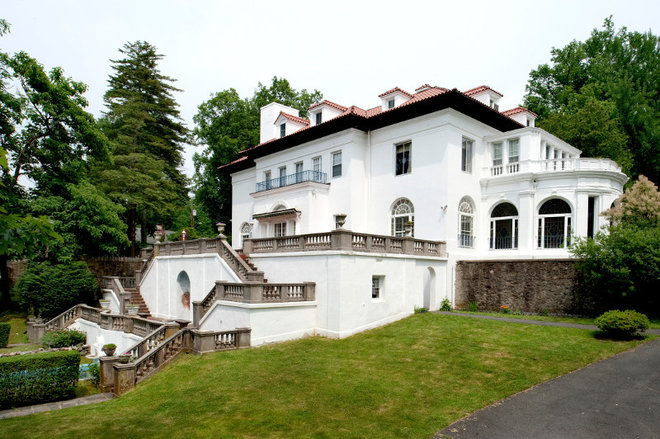 "Villa Lewaro stands as testament to the entrepreneurial spirit of Madam C.J. Walker, America's first self-made female millionaire," says Brent Leggs, director of the National Trust for Historic Preservation's recently launched African American Cultural Heritage Action Fund. "As one of our National Treasures, Villa Lewaro continues to live up to its role in inspiring all of us to reach our highest potential."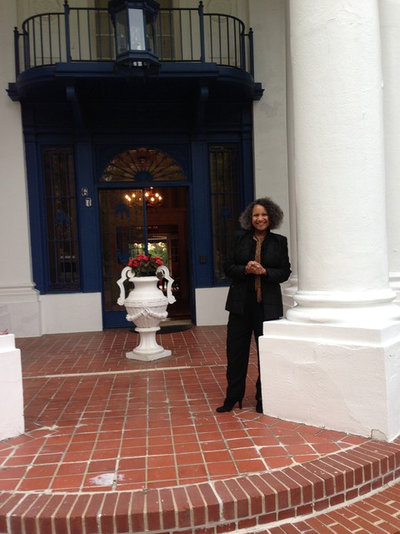 He continues: "This place is truly a 'dream of dreams,' as Madam Walker called it — and we must not forget that such an unprecedented achievement took place in an era when neither women nor African-Americans were considered full citizens."
A'Lelia Bundles, author of "On Her Own Ground: The Life and Times of Madam C.J. Walker," is at work on a biography of her great-grandmother A'Lelia Walker. She lives in Washington, D.C.
Want to learn more about the fascinating and innovative C.J. Walker? Below is a documentary commemorating her life: